Posted by: Dori 8 years, 4 months ago
Written by: DORI team writer, Noemi S.
Designers presented their spring/summer 2015 collections in New York, London, Milan and Paris, and the marathons within Fashion Week set the tone for this season's trends. Here's a top 10 of the style trends for summer 2015 recommended by the fashion industry experts!
The shirt dress
The general trend followed by designers in this period is to play with classic clothes and give them a new interpretation. The shirt dress is among the clothing pieces that was made to delight fashion aficionados. It fits perfectly in casual or sport chic outfits.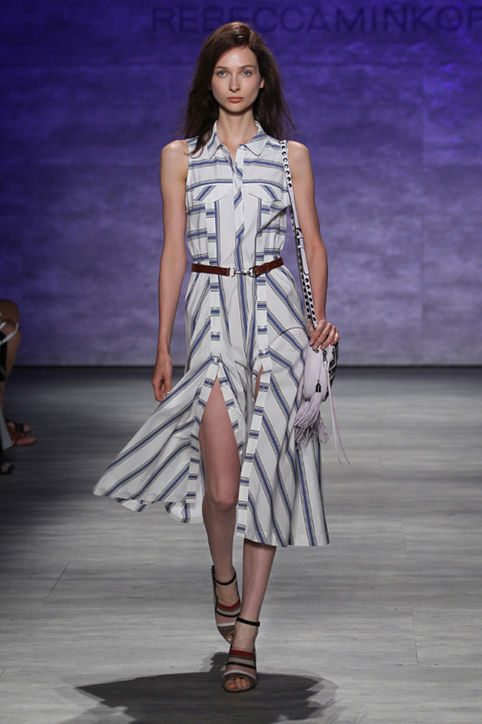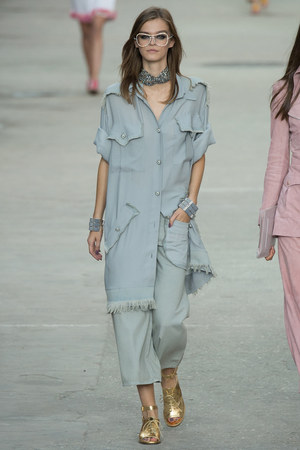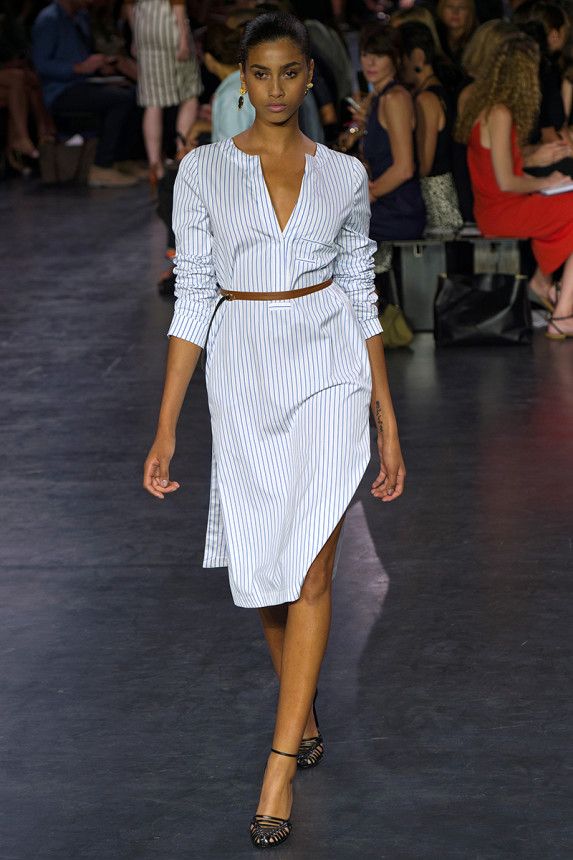 http://www.glamour.com/fashion/blogs/dressed/2014/09/spring-fashion-trend-shirt-dresses
http://coolspotters.com/clothing/chanel-spring-2015-blue-shirtdress
https://www.pinterest.com/pin/88242473924939470/
Yellow clothes
Outfits consisting of dresses, blouses or yellow coats are very trendy this summer. Yellow is one of the brightest style trends for summer 2015 that catches the eye and puts you in the spotlight immediately, so wear it with style!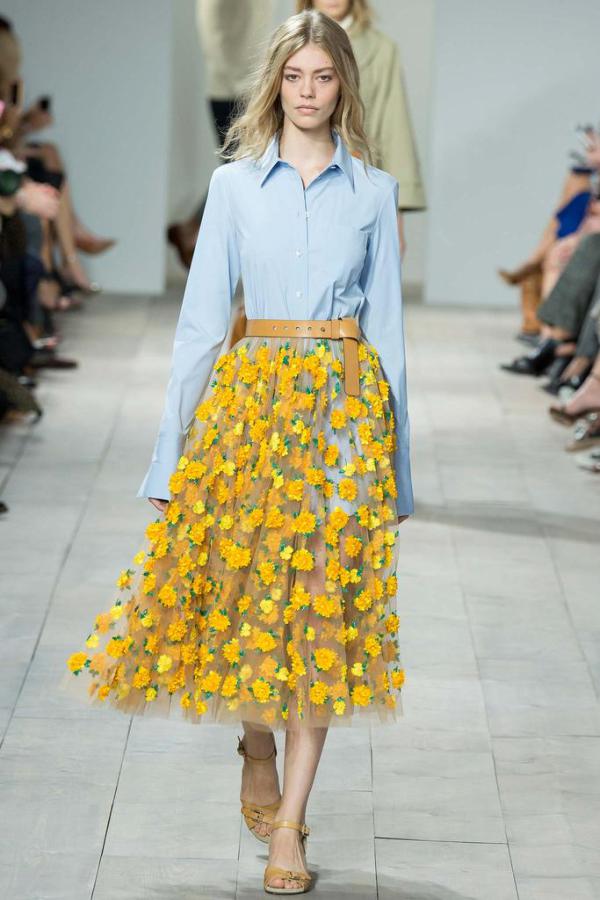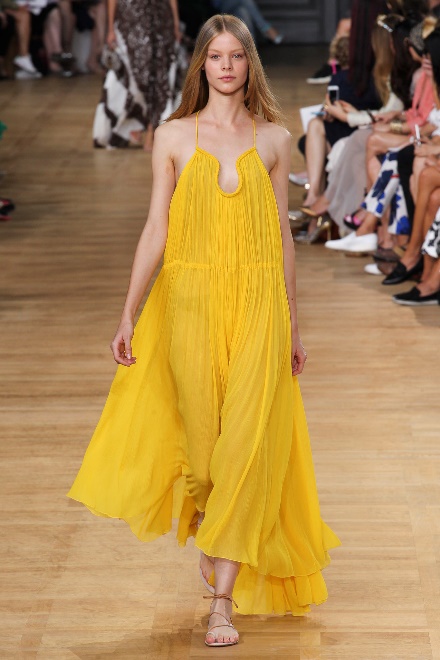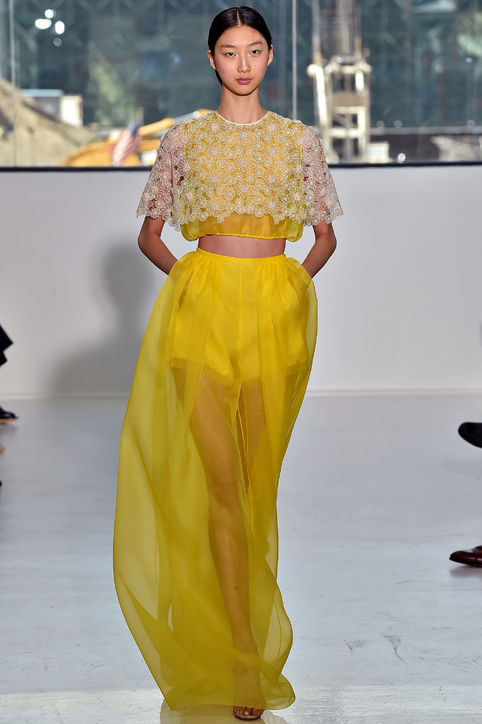 http://theslowpace.com/2014/09/11/michael-kors-spring-summer-2015/
http://stylecollective.com/fashion/spring-2015-fashion-runway-vs-everyday/
https://kamisolimaging.wordpress.com/2015/03/11/lemon-yellow-2015-spring-colors-are-trending/
The Gingham print
Used in the fashion industry as a test material, Gingham was brought to the attention of fashionistas when Brigitte Bardot wore a pink plaid dress at her wedding. Also, you surely remember Dorothy's Gingham dress in the classic movie "Wizard of Oz".
Currently, Gingham is mostly found in the outfits of indie singers or fans, and is often associated with brands like Ben Sherman and Merc. But big designers like Oscar de la Renta and Diane von Furstenberg give new levels of style to this fabric and propose for summer many garments created from Gingham.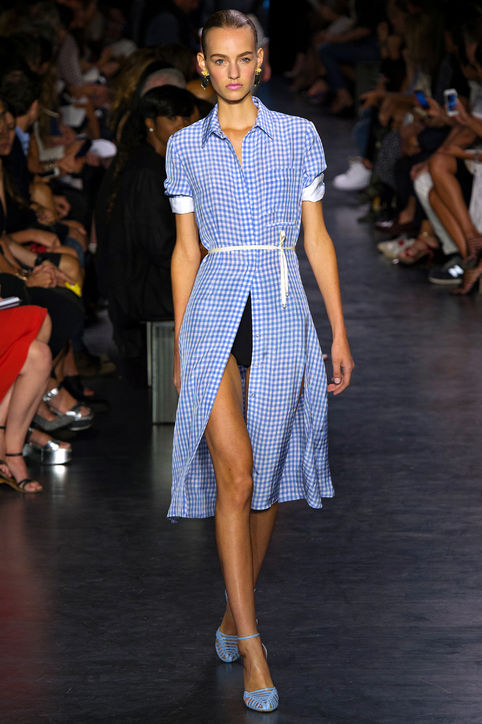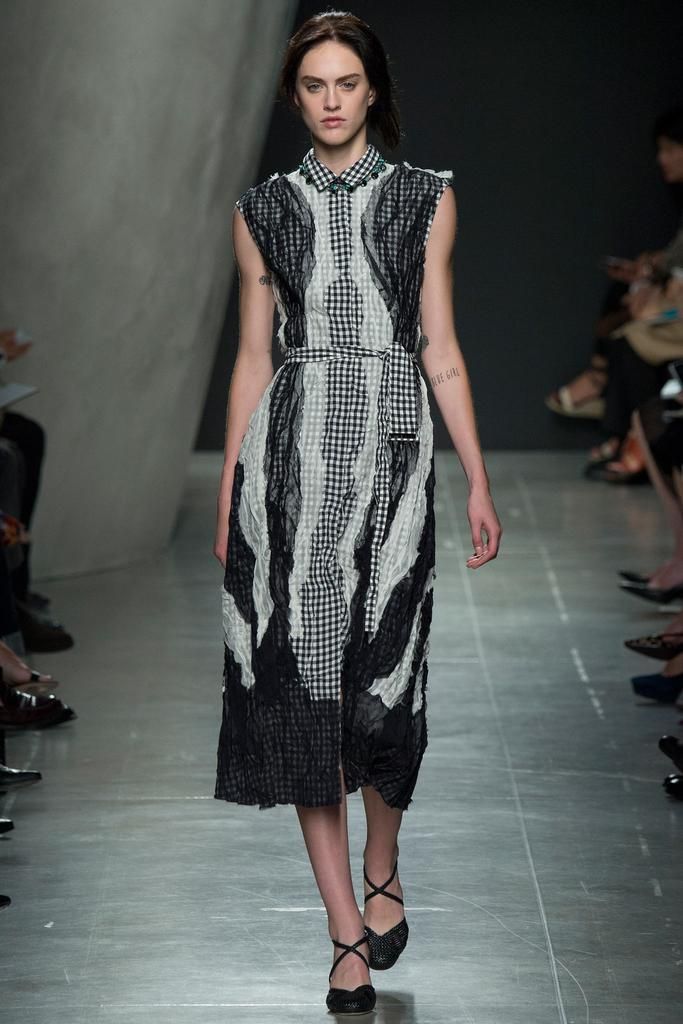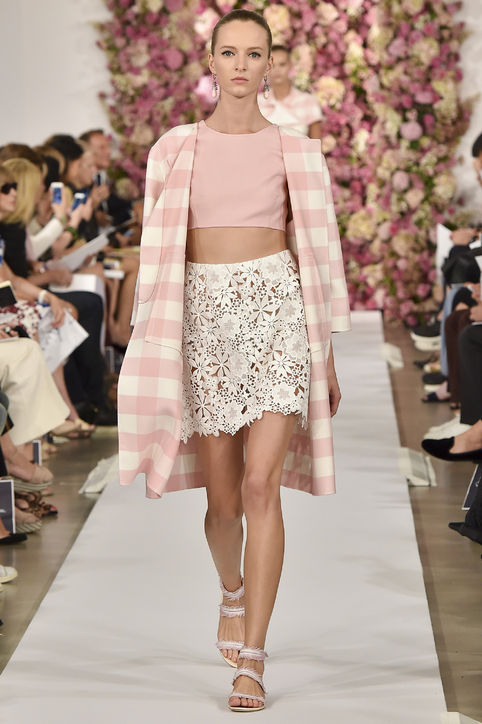 http://www.glamour.com/fashion/blogs/dressed/2014/09/spring-fashion-trend-shirt-dresses
https://www.pinterest.com/pin/548102217124229190/
http://stormia-fashion.blogspot.it/2015/04/spring-2015-trends.html
The classic black and white combination
The black and white combination remains a classic, therefore, will never go out of style. But this season, the novelty is in the fact that the focus is on patterns. Thus, if you don't want a boring outfit, play with black and white geometric or abstract prints, and different fabrics.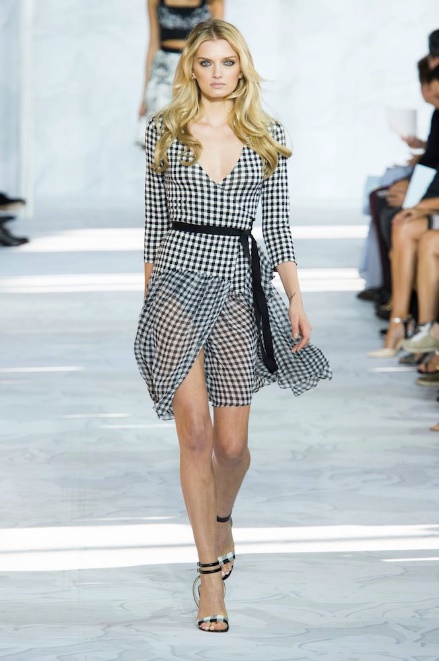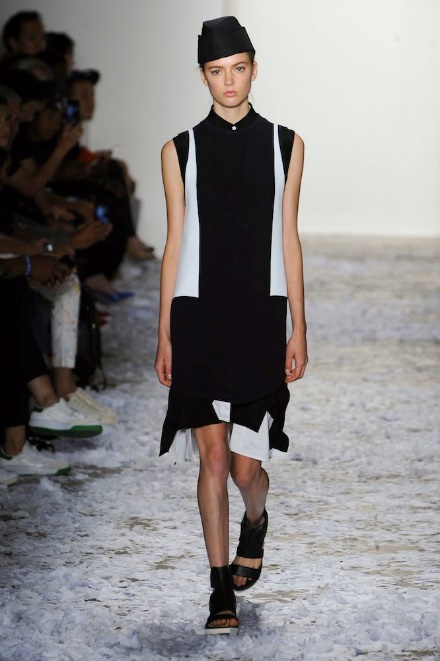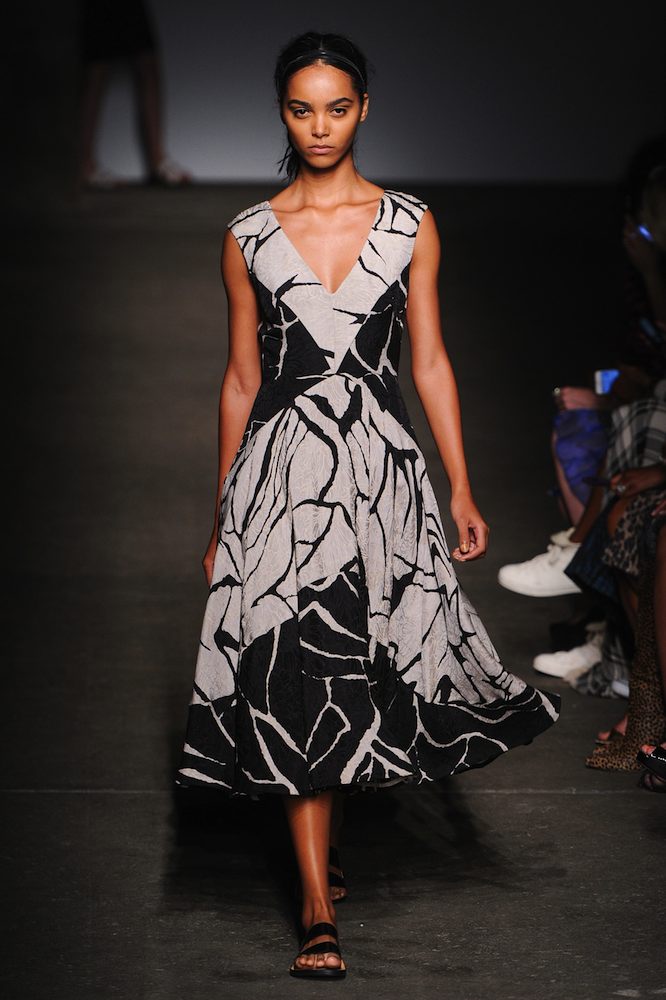 http://www.thefashionspot.com/style-trends/458401-spring-2015-trend-black-and-white/#/slide/15
The Kimono trench
From lightweight, loose, with or without belts, kimono style coats are among the most popular clothing pieces on catwalks. Versatile and comfortable, they are a result of a beautiful combination between a kimono and a coat or trench.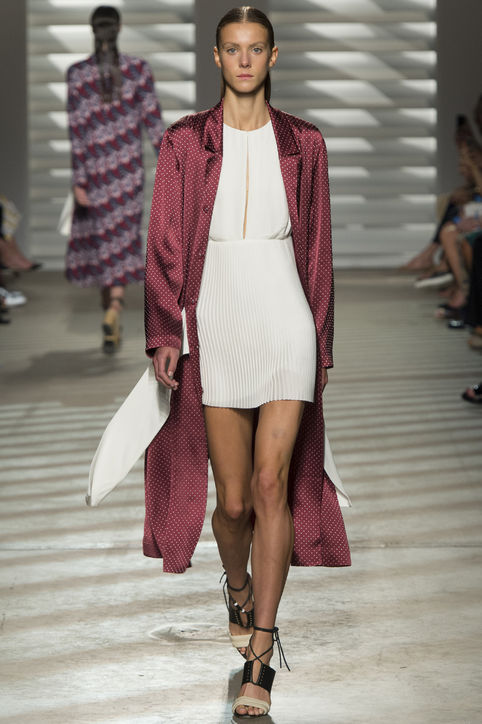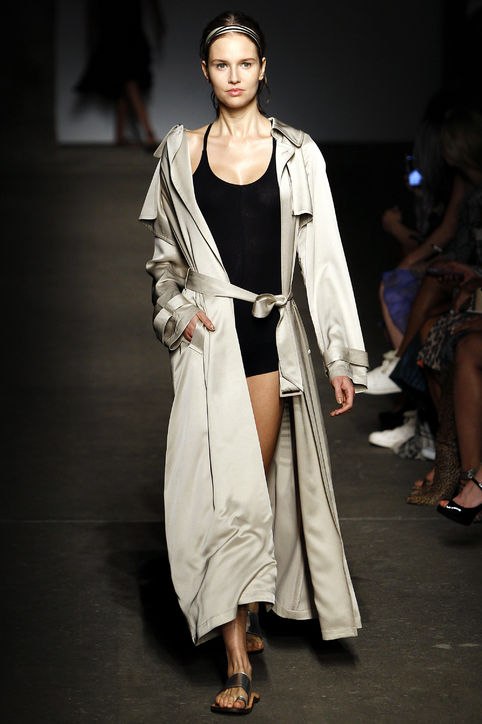 http://makeupandbeauty.com/spring-2015-fashion-trends/
http://www.shopyourway.com/articles/66548
http://makeupandbeauty.com/spring-2015-fashion-trends/
The obi belt
One of the great style trends for summer 2015 is to emphasize your waist with a stylish accessory. Use an obi belt for dresses, sweaters, but also coats. This way you will outline your middle, and you'll get a ladylike look.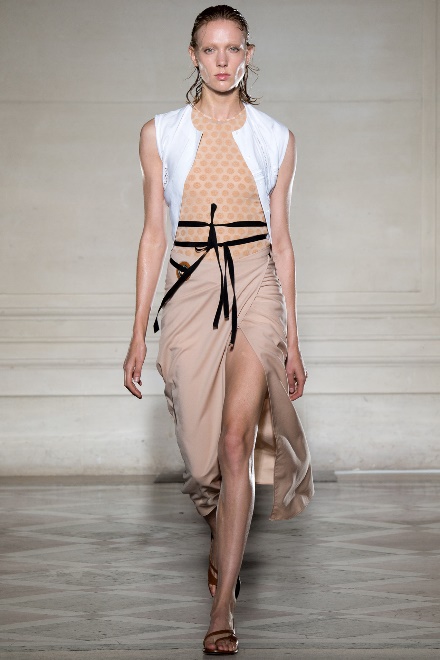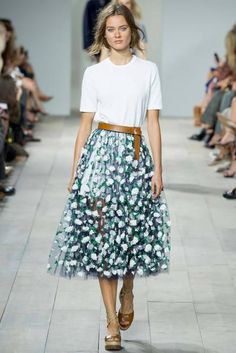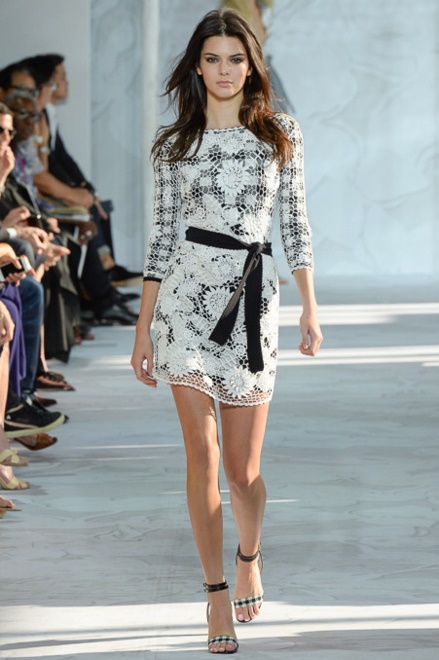 http://www.fashionisers.com/trends/spring-summer-2015-accessory-trends/
https://www.pinterest.com/explore/obi-belt/
http://www.glamour.com/fashion/blogs/dressed/2014/09/kendall-jenner-dvf-spring-2015-runway
Comfortable footwear
One of the most welcomed style trends for summer 2015 are comfortable and fashionable shoes. You can opt for Oxford shoes, sneakers, espadrilles, ballet flats or sandals.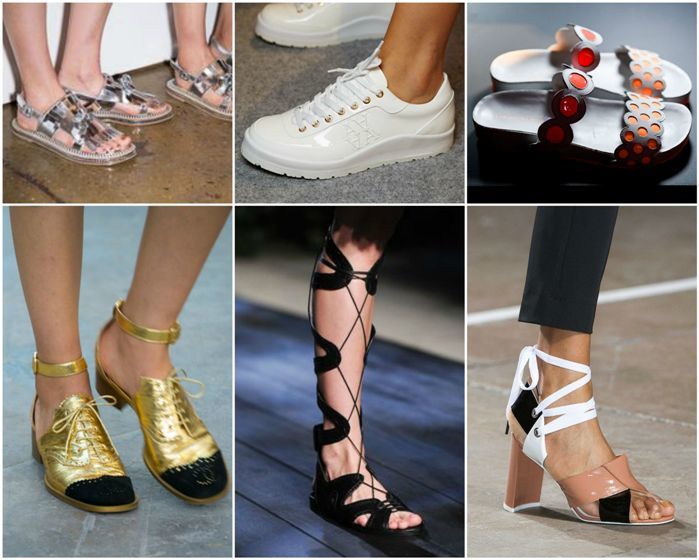 http://makeupandbeauty.com/spring-2015-fashion-trends/
Off the shoulder dresses or tops
Off the shoulder tops, dresses and blouses will always emulate sensuality, tenderness, femininity while being challenging. For spring/summer, 2015 designers proposed the one sleeve variation, creating asymmetric, but stylish outfits. Choose this type of design for parties or romantic dinners for a very chic look.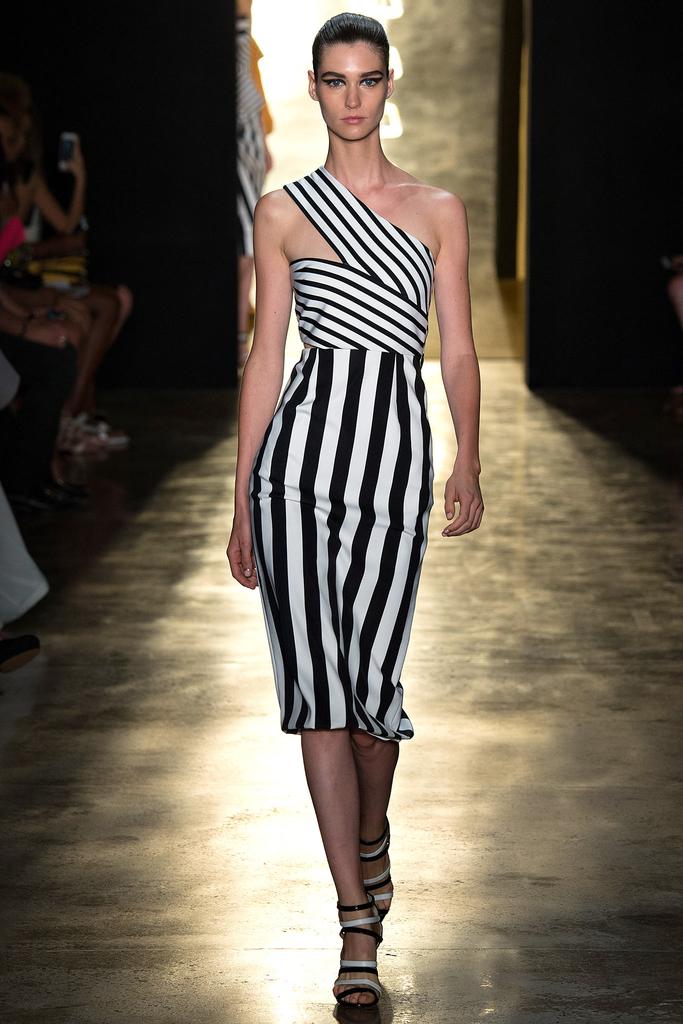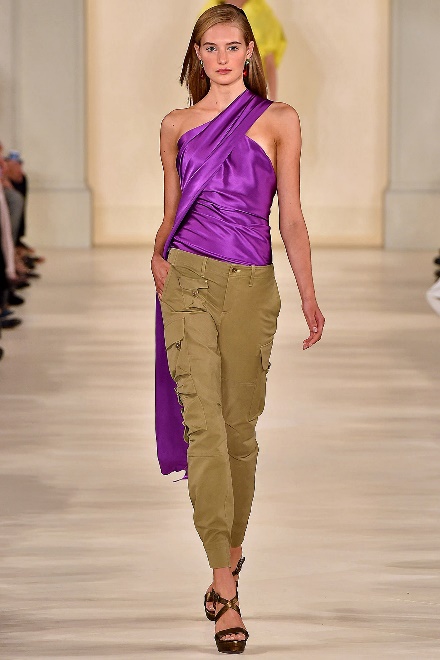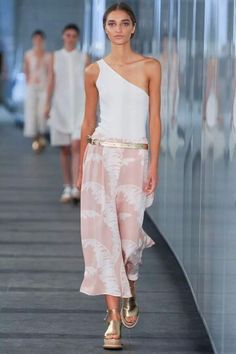 http://fashionbombdaily.com/2014/09/07/show-review-cushnie-et-ochs-spring-2015/
http://www.robberstyle.com/shocking-ralph-lauren-spring-2015-collections/
https://www.pinterest.com/fashcc/one-shoulder/
Flared jeans and culottes
Flared pants are back in business and jeans remain a classic piece of clothing, and if you combine these two trends you will get a catwalk worthy look. To create an interesting contrast wear a crop top.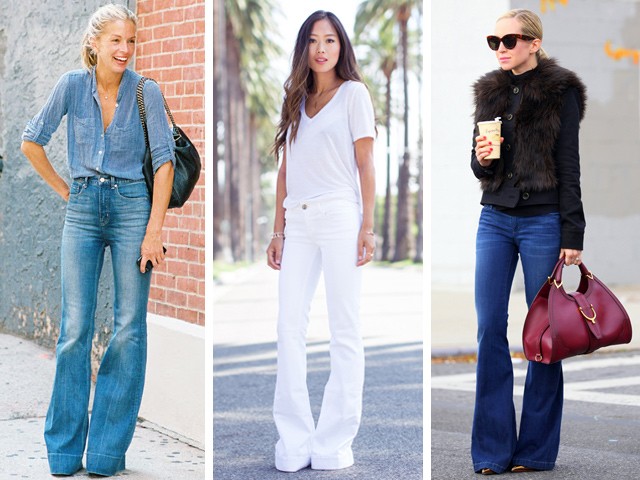 http://spoonfulofflair.com/spoonful-of-fashion/fashion-tip-friday-2
Culottes
The so-called culottes or ¾ skirt-pants have an interesting evolution throughout history. They appeared during the reign of King Henry III in 16th century France and continued to be fashionable in the US, where George Washington wore them during his presidency.
In feminine outfits, they appeared as a necessity, before being a fashionable garment. In the Victorian era, culottes began to be worn in riding competitions, to enable women to stand normally on the horse, not on one side. Later, these pants became increasingly popular because they allowed women to do all sorts of activities such as gardening or cycling and still look feminine.
Therefore, culottes are a trick that women use to feel more comfortable and look good at the same time. So, flared jeans and culottes are both must-have style trends for summer 2015.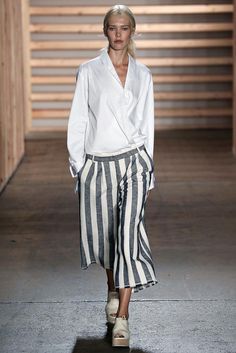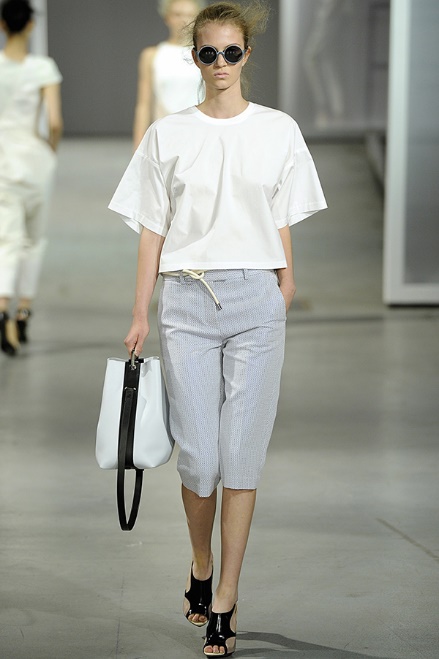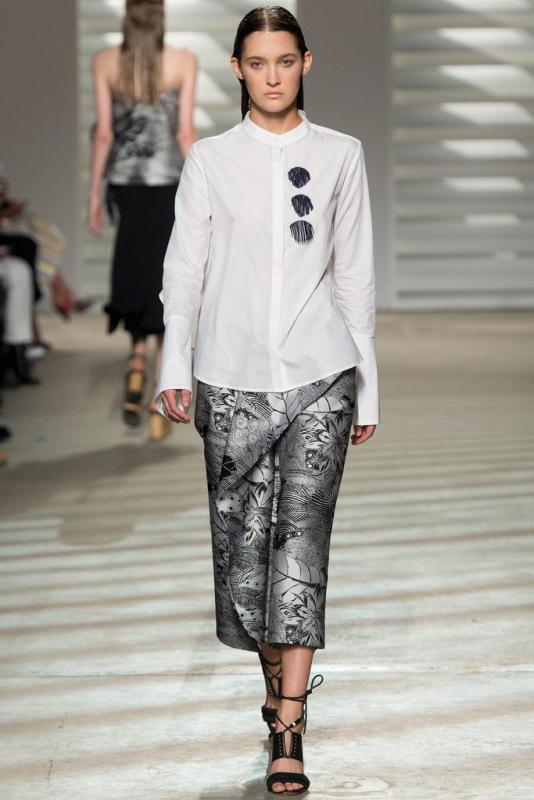 https://www.pinterest.com/tibi/tibi-spring-2015/
https://editd.com/blog/2015/01/the-10-biggest-retail-trends-in-2015/
http://makeupandbeauty.com/spring-2015-fashion-trends/
The polo T-shirt
Designers have embraced a common theme this year: the sporty style. Polo shirts are back! For more feminine outfits, you can replace sneakers with espadrilles.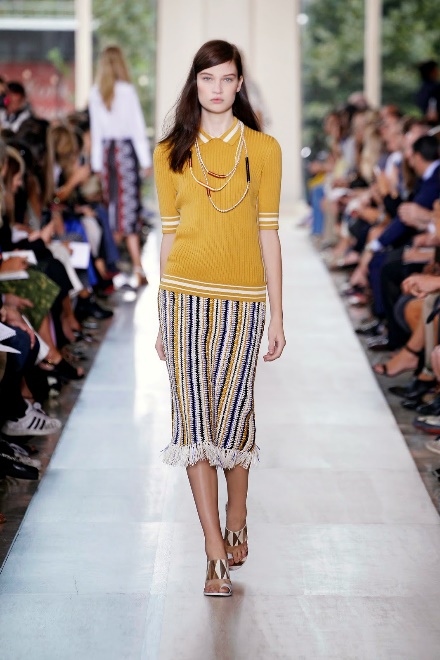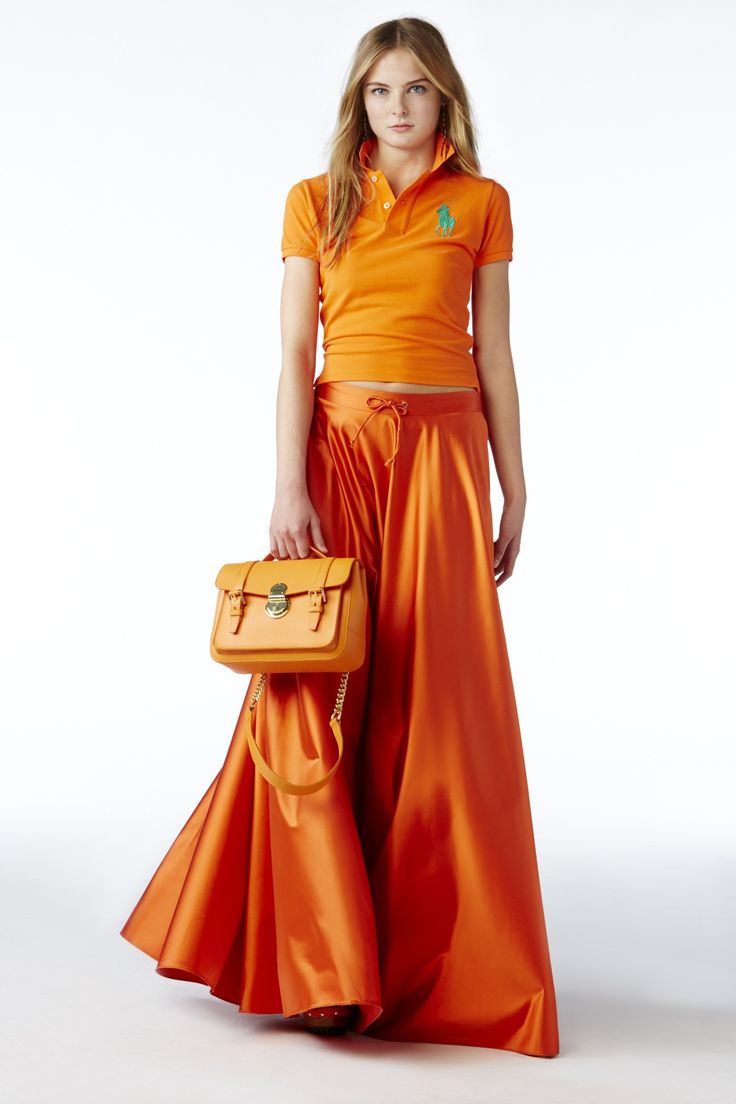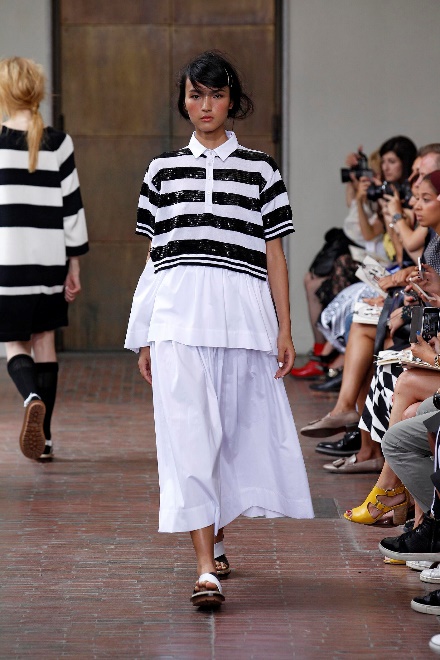 http://www.chaos-mag.com/spring-2015-loves-polo-tee/
https://www.pinterest.com/pin/253116441532533904/
Bonus: Military Influence
The military style is inspired by the 40's. Over time, this trend had several comebacks and in 2015 it's returning to the attention of fashion houses. Therefore, don't avoid khaki clothing pieces, inspired by the masculine wardrobe.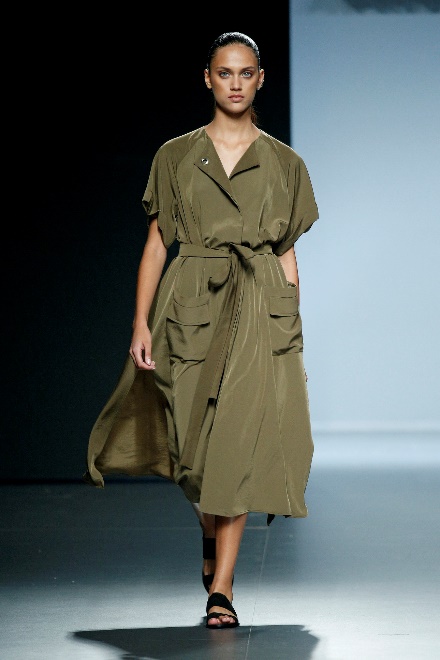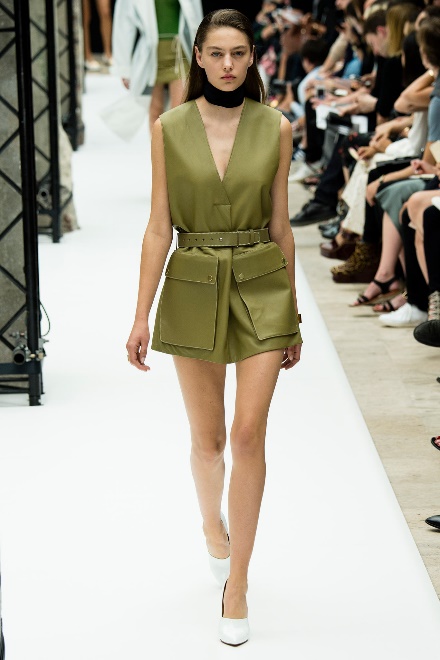 http://thebestfashionblog.com/womens-fashion/best-looks-from-angel-schlesser-spring-summer-2015-runway
http://fashionbombdaily.com/2014/09/10/rock-knock-fashion-weeks-trend-finished/
http://classiq.me/spring-2015-trends-i-can-work-military-pockets
For summer 2015 designers have established all the trends. This year's fashion brings many comebacks and reinvented classics. So which is the first trend you will try this summer?
Share on Facebook